ONLINE SAFETY COMPLIANCE MANAGEMENT SERVICES
Our team at Safety Compliance Tracker wants to help you better manage your personnel, training, fleet, and maintenance programs. To do this, we offer online safety compliance management services to help you track all the components of your different programs.
By providing a service that focuses especially on driver qualifications, you will feel confident that your employees are operating safely on the job.
SEE THE BENEFITS
Tracking the certifications and qualifications of your drivers can be a big task. Businesses with drivers must make sure that their employees are correctly certified for all jobs they take on. With our online safety compliance management program, you can compile all this information into one place and keep tabs on upcoming expirations and deadlines. This will help you manage your fleet more effectively.
You may need to track both DOT and OSHA compliance for your drivers, as well as other certifications. Instead of handling hard copies and ever-growing files, consider how easy it is to funnel all this information into a digital space.
With our management services, you will be able to quickly see your drivers' current certifications and upcoming expirations. Additional features will help you keep relevant information all in one place.
EFFECTIVE DRIVER MANAGEMENT
Your business can be more productive with more comprehensive driver management. No matter the size of your fleet, it is critical to keep a record of information about all your drivers. A digital management space helps you keep your records active and up to date so you don't have to worry about any issues concerning the driver qualifications of your employees.
The success of your business depends on more than delivering your products. Help your employees keep up with their driver qualifications on file and create a better business model.
For more information about how online safety compliance management services can benefit your business, contact Safety Compliance Tracker today.
PERSONNEL MANAGEMENT
An important key to both OSHA and DOT Compliance is efficient personnel management. Safety Compliance Tracker provides the tools necessary to track and maintain all employees but focuses especially on Driver Qualification. With color coded text boxes and email alerts, you will always know when your drivers' expiring documents need attention! Additional personnel management tools include Drug and Alcohol Recordkeeping, PPE/Fit for Duty tracking, Subcontractor tracking, and more!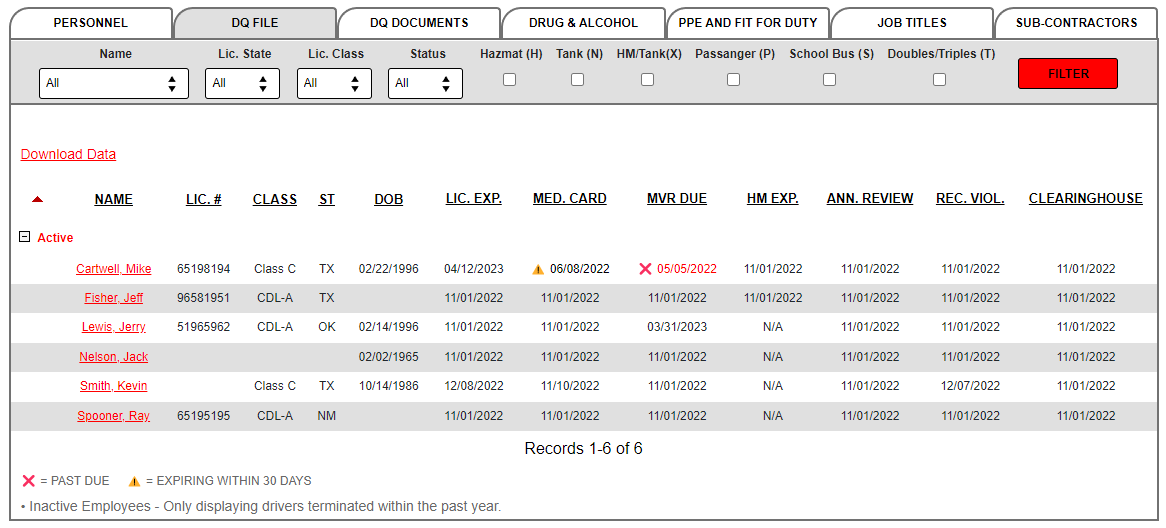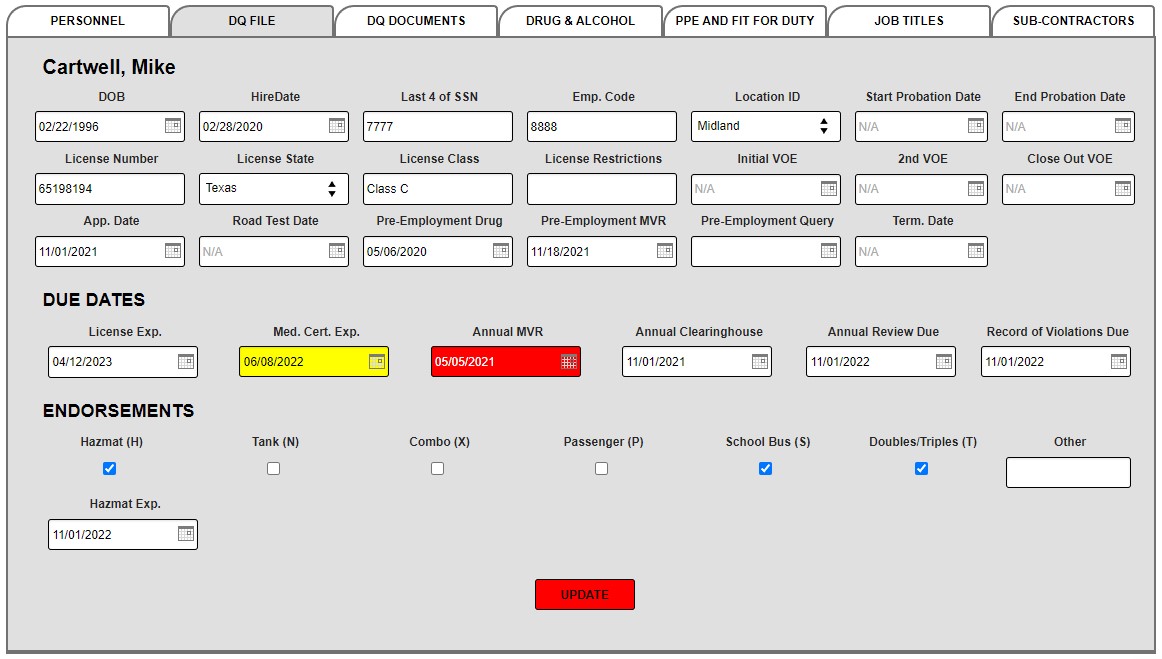 SAFETY COMPLIANCE TRACKER, LLC
ABOUT US
We understand the crucial role maintenance management support plays for our customers. We don't believe in merely selling products and services—we partner with our customers to ensure their success. Our Customer Support Team is highly professional, friendly and ready to assist.